Richard's Barn Project 2022
Walton Firs undertook to raise funds for a new project in 2021 in the name of Richard Holley - Dick, a sorely missed friend and supporter of the Firs for over half a century.  His lifelong commitment to Scouting and in particular, 1st Walton Viking Sea Scouts, was an inspiration to generations of youngsters and his peers fittingly acknowledged by the Scout Association by the awarding of The Silver Wolf, their highest honour for service to the Association. 
(L to R) Richard Shortman  awarding Richard (Dick) Holley the Silver Wolf, the highest service medal in 2011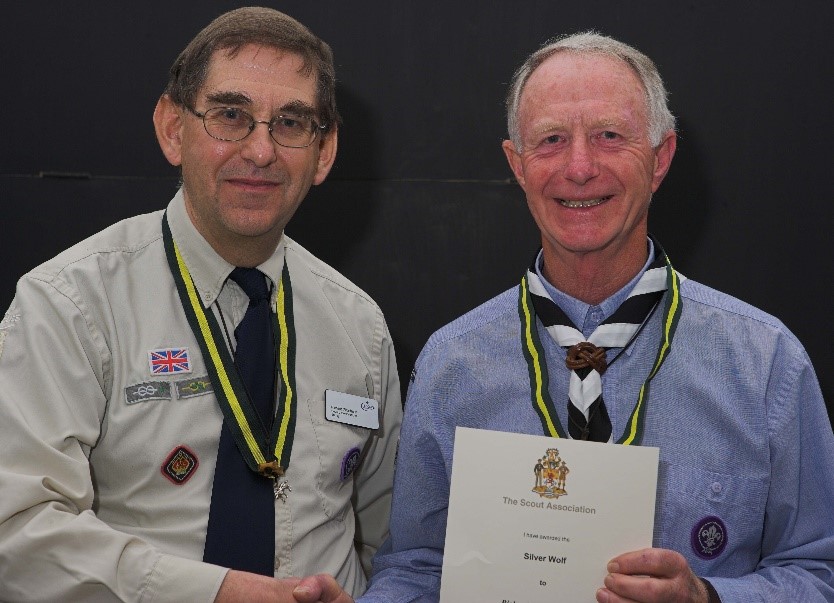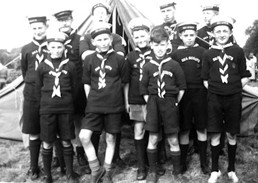 Many of you will remember how he was always at the front of the queue when work was to be done, but some of you may not know how involved he was with us here at Walton Firs.  In the 1960's Richard instigated the Service Crews and as a Crew Leader encouraged volunteers to help maintain and man the Centre.  He recruited various of us within Scouting from Walton and Weybridge Districts including a large contingent from 2nd Hersham Scout Group.  Dick led this team at the Centre every second weekend of the month – hence Crew Two was formed.  He surely must have been the longest serving volunteer and was still decorating, digging holes, clearing land and showing unquenchable enthusiasm as a Patron of The Foundation.  In 2008 Dick and Crew Two, drove
the formation of this charitable Foundation to save the site
and secure its future when it became known that the Scout
Association wished to dispose of their valuable asset.
Richard as a Scout with Viking Sea Scouts, Walton Firs (top right)
Since his passing in 2020, a number of donations and pledges were made by his many friends and Scouting colleagues with an aim to provide a fitting and lasting tribute to him.  Since April last year we have received over £20,000 towards the £60,000  required for such a building.  Around this time, Walton Firs was informed of a generous legacy from another Scouting colleague, ex County Commissioner for Surrey, Richard Shortman and it was decided that these two friends should be combined within the project – and it would be built as a joint memorial, Richard's Barn. 
As you can see this has come to fruition and having been handed over by the professionals it is now down to Crew Two, the volunteers and the staff to complete and fit out the new building.
Anyone with knowledge of Dick will remember his organised, well-maintained sheds with everything cleaned, labelled and in its own place.  It is therefore fitting to provide a much-needed humidity and temperature-controlled storage area in order to keep increasing quantities of climbing ropes, harnesses and helmets in good, safe, usable condition.
 The cost of fitting out the shed is in the order of £3,500 and any contributions  would be much appreciated by The Foundation.  On June 11th this year, at the AGM,  the Holley family and Richard Shortman's brother will cut the ribbon and open the facility for the enjoyment of all our young visitors.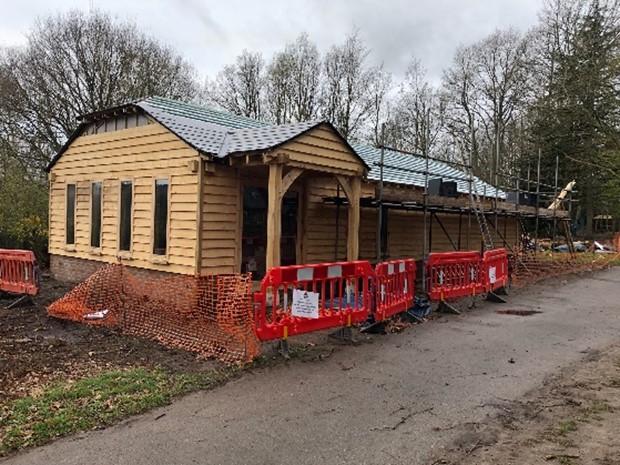 Richard's Barn development April 2022